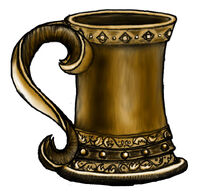 Cayden Cailean is the deity of freedom, drink, women and bravery, and as such those that follow the Lucky Drunk seek their own path in venerating their patron. Once a mortal sell sword and freedom fighter, many good adventurers feel a kinship with this Ascended god, and often honor the Drunken Hero even if they don't count themselves among his faithful.
Subcategories
This category has the following 3 subcategories, out of 3 total.
Pages in category "Cayden Cailean"
The following 7 pages are in this category, out of 7 total.
Ad blocker interference detected!
Wikia is a free-to-use site that makes money from advertising. We have a modified experience for viewers using ad blockers

Wikia is not accessible if you've made further modifications. Remove the custom ad blocker rule(s) and the page will load as expected.