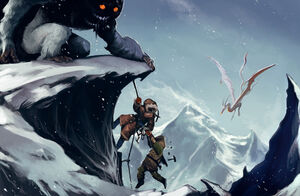 The Kodar Mountains, known to the Shoanti as the World's Roof,[1] are among the highest mountain ranges on the face of Golarion. Located in the north of Avistan, they form the natural boundary between several nations. The extensive range forms the north and northwestern border of Varisia separating it from the Hold of Belkzen to the west and the Lands of the Linnorm Kings, Irrisen and the Realm of the Mammoth Lords to the north. Few creatures call the Kodars their home as only the toughest creatures can survive there. Known inhabitants include rocs, storm giants, dragons,[2] yeti,[3] crag spiders,[4] and wendigos.[5] This isolation has helped foster rumors of fantastic locations hidden within the depths of the mountains.[2]
Places of Interest
Edit
References
Edit
Ad blocker interference detected!
Wikia is a free-to-use site that makes money from advertising. We have a modified experience for viewers using ad blockers

Wikia is not accessible if you've made further modifications. Remove the custom ad blocker rule(s) and the page will load as expected.