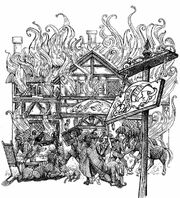 The Swaddled Otter is a respectable three-story inn located in the River Kingdoms. Milikin, the inn's gnome proprietor, employs a number of staff including Ilna the cook and Vanya the serving girl.[1] The town's hereditary ruler, Lord Byrtol Addelworth, stayed in the Swaddled Otter in 4710 AR, where he overstayed his welcome was the target of an assassination attempt. The inn was severely damaged by a fire started by exiled noble Ollix Kaddar that same year.[2]
References
Edit
Ad blocker interference detected!
Wikia is a free-to-use site that makes money from advertising. We have a modified experience for viewers using ad blockers

Wikia is not accessible if you've made further modifications. Remove the custom ad blocker rule(s) and the page will load as expected.