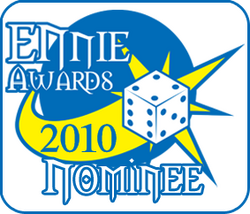 2010 ENnie Award nominations were announced today, including 14 for Paizo! Without further ado, Pathfinder nominees are:
Paizo is also among the nominees for Best Publisher, an award they took home two years ago!
Also worth mentioning are several nominations for unofficial sites and products supporting Paizo and their Pathfinder rules and setting. Most notably is our own site, PathfinderWiki, received a nomination for Best Website, an honor we share with fellow Pathfinder fan site d20pfsrd.com. Wayfinder, the Pathfinder Campaign Setting fanzine, received a nod for Best Free Product!
Public voting runs from July 16 to July 25 and the winners will be announced on August 6 at GenCon.
Ad blocker interference detected!
Wikia is a free-to-use site that makes money from advertising. We have a modified experience for viewers using ad blockers

Wikia is not accessible if you've made further modifications. Remove the custom ad blocker rule(s) and the page will load as expected.