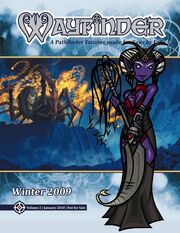 Released last week, the second volume of the Pathfinder fanzine known as
Wayfinder
is absolutely stunning. While none of the content within it is considered canon for the purposes of this project, it's nevertheless a fun and exciting resource for any Pathfinder player or GM. Also, it's free! My favorite part of volume #2 is Zonzon (pg 19), the
Zon-Kuthon
dolls traditionally used to carry
Shelyn's
love and blessings to her twisted and evil brother. What's your favorite article or piece of art from Wayfinder #2? And what do you plan to put in #3?
Be sure to look at the Golariopedia ad on page 67.
Ad blocker interference detected!
Wikia is a free-to-use site that makes money from advertising. We have a modified experience for viewers using ad blockers

Wikia is not accessible if you've made further modifications. Remove the custom ad blocker rule(s) and the page will load as expected.