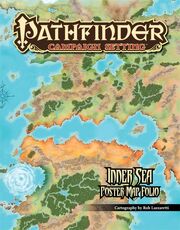 I've been given the ok by the esteemed Erik Mona to discuss publicly my upcoming stint as temporary employee of Paizo Publishing. I was asked to extend my trip to Seattle, where I was already planning on going to attend PaizoCon, to spend a week in the office adding locations to the giant poster map of the Inner Sea region that will appear in the Inner Sea Poster Map Folio later this year. The plan is to go through every Pathfinder product and make sure that every named location (even ones without descriptions) are included in the map with a tag. And that's a ton of work!
So, fellow canon-fiends, here's where you come in! What are the most obscure named locations you have come across in your ongoing chronicling? Vyre immediately sprang to mind for me, but that can't be the only place that's been mentioned and then never mapped or mentioned again. Erik was excited when I asked if I could tap the wiki community for help catching the really esoteric, off-hand name-dropping from the scores of products within Pathfinder canon. Don't disappoint.
Ad blocker interference detected!
Wikia is a free-to-use site that makes money from advertising. We have a modified experience for viewers using ad blockers

Wikia is not accessible if you've made further modifications. Remove the custom ad blocker rule(s) and the page will load as expected.