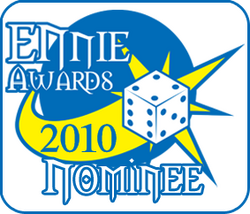 PathfinderWiki has been nominated for an ENnie Award for best website!
First and foremost, thanks to all Chroniclers for all your hard work. Golariopedia wouldn't be a shadow of the resource it is now without the contributions of dozens of active editors. Give yourselves a huge mug of Cayden's best brew and have a friend pat you on the back.
So now everyone's asking, "how can we make sure we win?"
Well, we can keep improving the site every day. Make edits, create articles, and participate in ongoing discussions in the forum and blogs. Spread the word about the site on your personal blogs, websites, messageboards, twitter, facebook, myspace, friendster, etc. Get more people using it, and we get more people editing it.
And lastly, VOTE! Public voting begins on July 16 and runs through July 25. The winners will be announced at GenCon on August 6.
Best of luck to all the nominees, including 14 nominations for Paizo, one for d20pfsrd, and one for Wayfinder! Let's have a Pathfinder ENnies sweep this year!
See a list of all nominated products here
Ad blocker interference detected!
Wikia is a free-to-use site that makes money from advertising. We have a modified experience for viewers using ad blockers

Wikia is not accessible if you've made further modifications. Remove the custom ad blocker rule(s) and the page will load as expected.