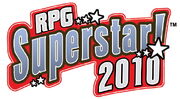 As you may be aware, the third annual RPG Superstar contest wraps up today, when polls close at 2pm PDT. Make sure to get your vote in before it's too late to help decide which of the final four contestants will be named RPG Superstar and have their adventure proposal written, developed, and published as part of the Pathfinder Modules line from Paizo Publishing. The contest's winner will be announced on paizo.com tomorrow at 2pm PDT.
In case you were wondering I voted for Matt Goodall's Cult of the Ebon Destroyers. Who are you voting for?
Vote now at the RPG Superstar voting booth
Ad blocker interference detected!
Wikia is a free-to-use site that makes money from advertising. We have a modified experience for viewers using ad blockers

Wikia is not accessible if you've made further modifications. Remove the custom ad blocker rule(s) and the page will load as expected.