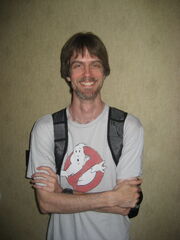 Paizo
CEO
Lisa Stevens
let slip today in paizo.com's daily
store blog
that the company has hired a new Assistant Editor:
"Every so often, our adventures bring in elements from beyond the world of Golarion—things that one might describe as alien. Or spacey. Or sci-fi. Well, in this month's Pathfinder Society Scenarios, Paizo's newest editorial staffer—and RPG Superstar finalist—Rob McCreary and Pathfinder Society coordinator Josh Frost each riffed on stories that boldly go where no scenario has gone before!"
Rob has moved to the Seattle area from Prague, Czech Republic and will begin work on Monday, November 2. Please stop by the Paizo messageboards and wish him congratulations and the best of luck!
Ad blocker interference detected!
Wikia is a free-to-use site that makes money from advertising. We have a modified experience for viewers using ad blockers

Wikia is not accessible if you've made further modifications. Remove the custom ad blocker rule(s) and the page will load as expected.