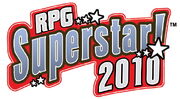 Voting ends today, February 1, at 2:00pm Pacific time, so be sure to vote on your four top choices for RPG Superstar 2010! 32 contestants have submitted monster concepts, and it's up to the Paizo community to select the best ones. The Top 16 and their next challenge will be announced at 2:00 PST tomorrow afternoon, so be sure to check RPG Superstar before voting ends and again tomorrow to see if your favorite contestant made it to the next round. The winner of the competition gets a contract to write a Pathfinder Module based on their winning adventure proposal, and many of the past two years' contestants have gone on to write numerous adventures, monsters, and setting books for Paizo outside the competition, so make your opinions known. It's your world now, so tell Paizo who you want to design it.
Ad blocker interference detected!
Wikia is a free-to-use site that makes money from advertising. We have a modified experience for viewers using ad blockers

Wikia is not accessible if you've made further modifications. Remove the custom ad blocker rule(s) and the page will load as expected.