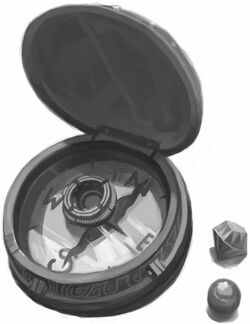 A wayfinder is a magic item used almost exclusively by members of the Pathfinder Society, so much so that the small device has become a calling card of sorts for the explorers and chroniclers. It functions primarily as a compass and also can emit light when instructed. It also contains slots that fit ioun stones. When a wayfinder includes an ioun stone in this manner, it reveals some new behavior which varies between wayfinders and depending on what stone is used.[1] Eando Kline's wayfinder, when fitted with a strange ioun stone, stopped pointing north and directed the pathfinder instead across Varisia and the Hold of Belkzen toward an unknown location.[2]
An unmodified wayfinder radiates evocation magic.[3]
References
Edit
Ad blocker interference detected!
Wikia is a free-to-use site that makes money from advertising. We have a modified experience for viewers using ad blockers

Wikia is not accessible if you've made further modifications. Remove the custom ad blocker rule(s) and the page will load as expected.